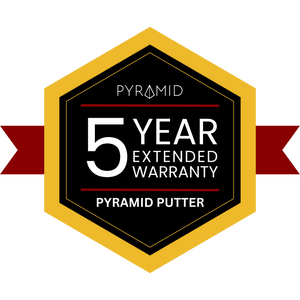 Protect Your Purchase
Every Pyramid Putter comes with one year of warranty coverage through our limited manufacturer warranty. Now, you can extend that warranty to 5 Years at an affordable price!
Coverage includes the following:
Defects in materials and workmanship during normal and customary use
Coverage does not include the following:
Grip of the Pyramid Putter
Pyramid Putter Head Cover
Rest easy knowing that your new putter is covered for a total of 5 years with this extended warranty. If something happens to your putter - we'll replace (or repair) it.
You may purchase the 5 Year Extended Warranty with your putter or within 60 days of purchase.
***Please note that Pyramid Golf has the final say to assess whether damage was from product defect or not***
How to Buy
Purchase the 5 Year Extended Warranty with your Pyramid Putter, or buy it within 60 days of your Pyramid Putter purchase. Extended warranties can only be purchased within 60 days of purchase of your Pyramid Putter. You must purchase the correct warranty for your product.
What Does the Warranty Cover?
Abnormal defects in materials and workmanship are covered. We reserve the right to replace or professionally repair the golf club, accessories, or parts or replace with an equivalent product at no cost to you. This warranty does not cover the claims and/or conditions below:
Damage or defects caused by use outside the product's intended purpose
Damage or defects caused by impact with objects or materials (rocks, balls, etc.)
Damage or defects caused by transport, loading, dropping, or handling
Damage or defects considered or caused to be normal wear and tear
Damage or defects caused by storage of the club in closed, damp conditions or by storage of a wet club in closed, damp conditions
Clubs used for commercial purposes
Warranty is not transferable. Applies to the original purchaser ONLY.
Accessories
The Warranty does not cover damage or defects resulting from improper storage, misuse, or improper handling of accessories (head covers and grip).
Head covers: The warranty does not cover conditions such as: tears, rips or holes caused by improper handling or abuse, damage caused by improper care or misuse, fading, or damage due to wear and tear.